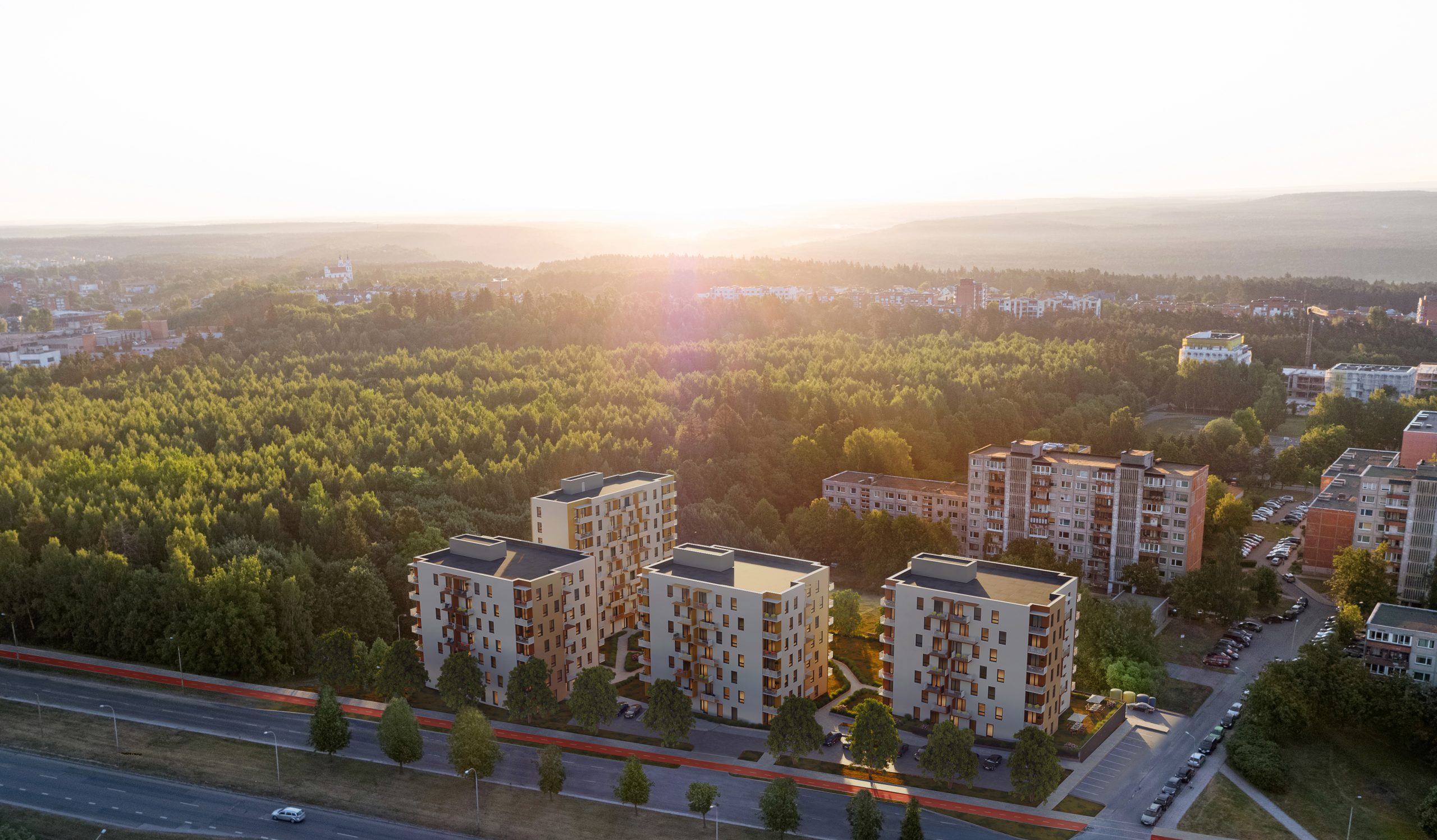 The real estate development company Galio Group will develop the project of multi-apartment buildings 'Jomanto parkas' with 224 apartments to be fitted out in Baltupiai District of Vilnius. Investments in this residential project will reach about EUR 16 million.
The project is being developed in the vicinity of 'Jomanto parkas', at Baltupio St. 61a, sharing the same site with the store of construction materials and garden goods Arkorama operating here. The residential project named 'Jomanto parkas' will consist of four multi-apartment buildings – three seven-storey buildings and one nine-storey building. 224 apartments will be constructed in four energy efficiency Class A+ buildings: buyers will be offered 1–4 room apartments of 27.2–86.5 m2 floor area.
Between the residential buildings a half-closed yard with greenery will be formed and playing grounds for children and teenagers and a leisure area for elderly people will be provided.  A car parking of 17 places for guest cars in the yards and 224 places in the underground parking for dwellers' cars are planned to be installed.
'During previous years, there was practically no supply of new apartments in Baltupiai, and almost 340 new apartments were purchased under the projects introduced to the market during the previous years. This shows that there is a demand for new dwellings in this district, but buyers have nothing to choose. The residential project 'Jomanto parkas' was designed with the focus on buyers of different age groups who find it convenient to live in Baltupiai, but would like to move to new cost-efficient and decent quality apartments. Therefore, under the project of 'Jomanto parkas' we will offer both small one-room apartments convenient for students and larger apartments that would meet family needs', – says Rūta Grucienė, the Residential Dwelling Projects Director of Galio Group.
The residential project of multi-apartment buildings 'Jomanto parkas' designed by the company of architects Unitectus will be implemented in several stages, planning the start of construction operations in the third quarter of this year and their completion – in the second quarter of 2022.
Galio Group is a real estate (RE) developer active on the market of Vilnius for 14 years and specialising for a long time in construction of sustainable office buildings. In 2020, Galio Group intends investing about EUR 73 million in the development of the RE projects in Vilnius. At present, the Company is developing business centres 'Wave', 'S7' (stage 4) and 'Freedom 36' in the Capital City. This year, Galio Group is planning to offer to the market of Vilnius almost 600 apartments according to six projects.