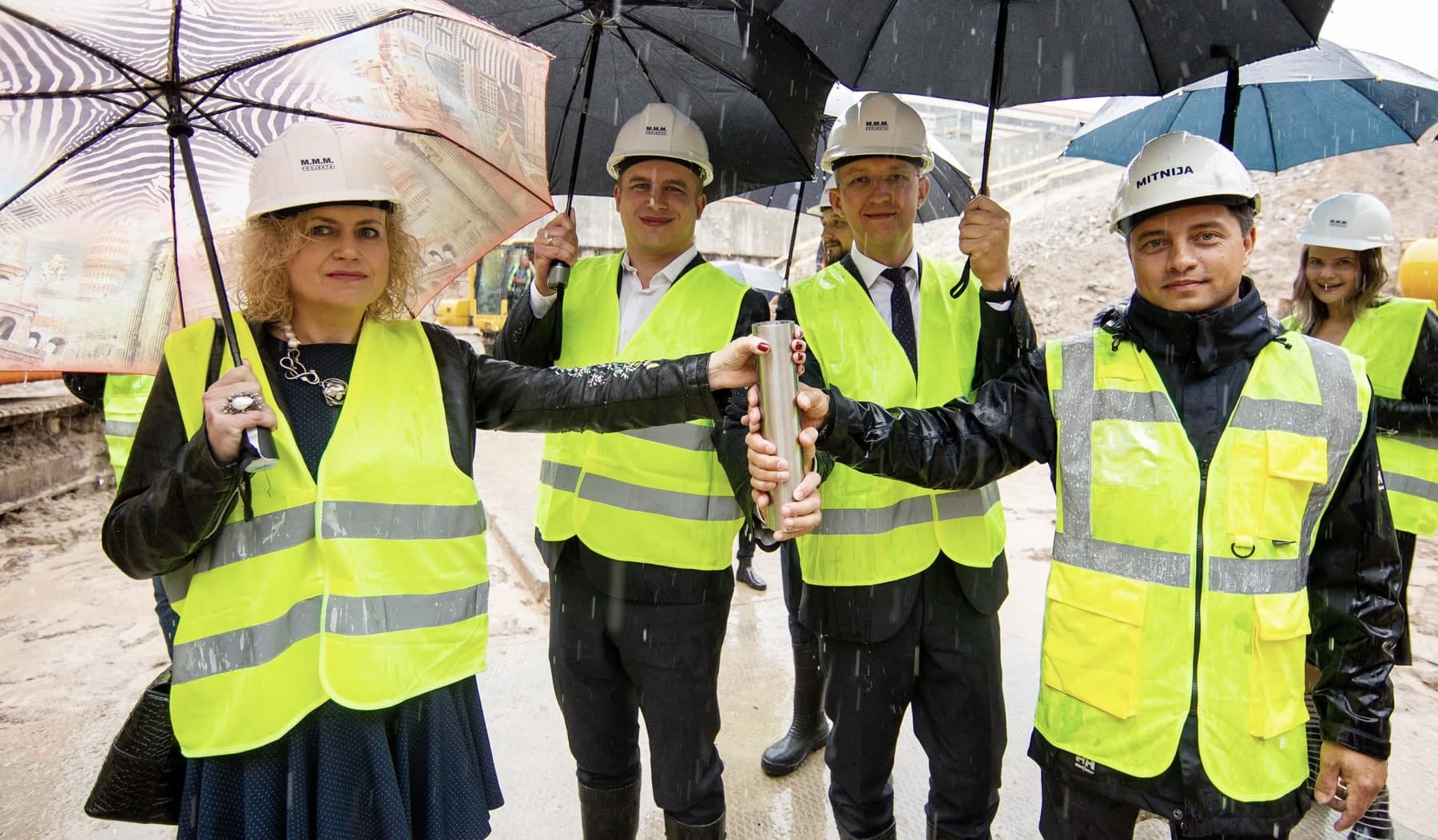 The company M.M.M. projektai buried the fourth capsule for future generations to mark the start of the final construction phase in the office complex 'S7' being developed in Vilnius. In less than two years, employees of Danske Bank will move to the fourth business centre of the complex 'S7'.
 M.M.M. projektai started developing the four buildings' office complex 'S7' inVilnius, Saltoniškių Street, in the territory of the former bakery, in 2016. Two business centres are already constructed and accommodate employees of the telecommunications company Telia and Danske Bank. Construction operations of the third business centre are approaching the end and will be finalised already this year, while the end of construction of the fourth business centre and, hence, of the whole office is pending in mid-2021.
'This business centre, like other buildings of the complex, is being developed in line with the international standard of sustainable buildings BREEAM. We seek obtaining BREEAM'New Construction Excellent' certificate, which means that from the stage of designwe have been investing in ecology, energy efficiency and sustainability of the building and comfort of people who will work here. We consider that buildings must serve people and, accordingly, seek to create safe and comfortable environment and are happy to find those who support our position on the Lithuanian market – the enterprises that give priority to the wellbeing of their employees and to the protection of environment', –  says Aisvidas Sriebalius, the General Manager of M.M.M. projektai.
The fourth building of the office complex 'S7' will have 6 floors and a 3-level underground car park. The total floor area of the building – 22 000 m2with 13 000 m2allocated for offices. Investments of M.M.M. projektai in this business centre will exceed EUR 32 million. Already before the start of construction operations, this building was rented to Danske Bank.
Phase four, likewise of the whole office complex 'S7', is implemented by the construction companyMitnija. Designers of the business centre are Vytenis Gerliakas, Ieva Leinartaitė–Gerliakienė from Eventus Pro.