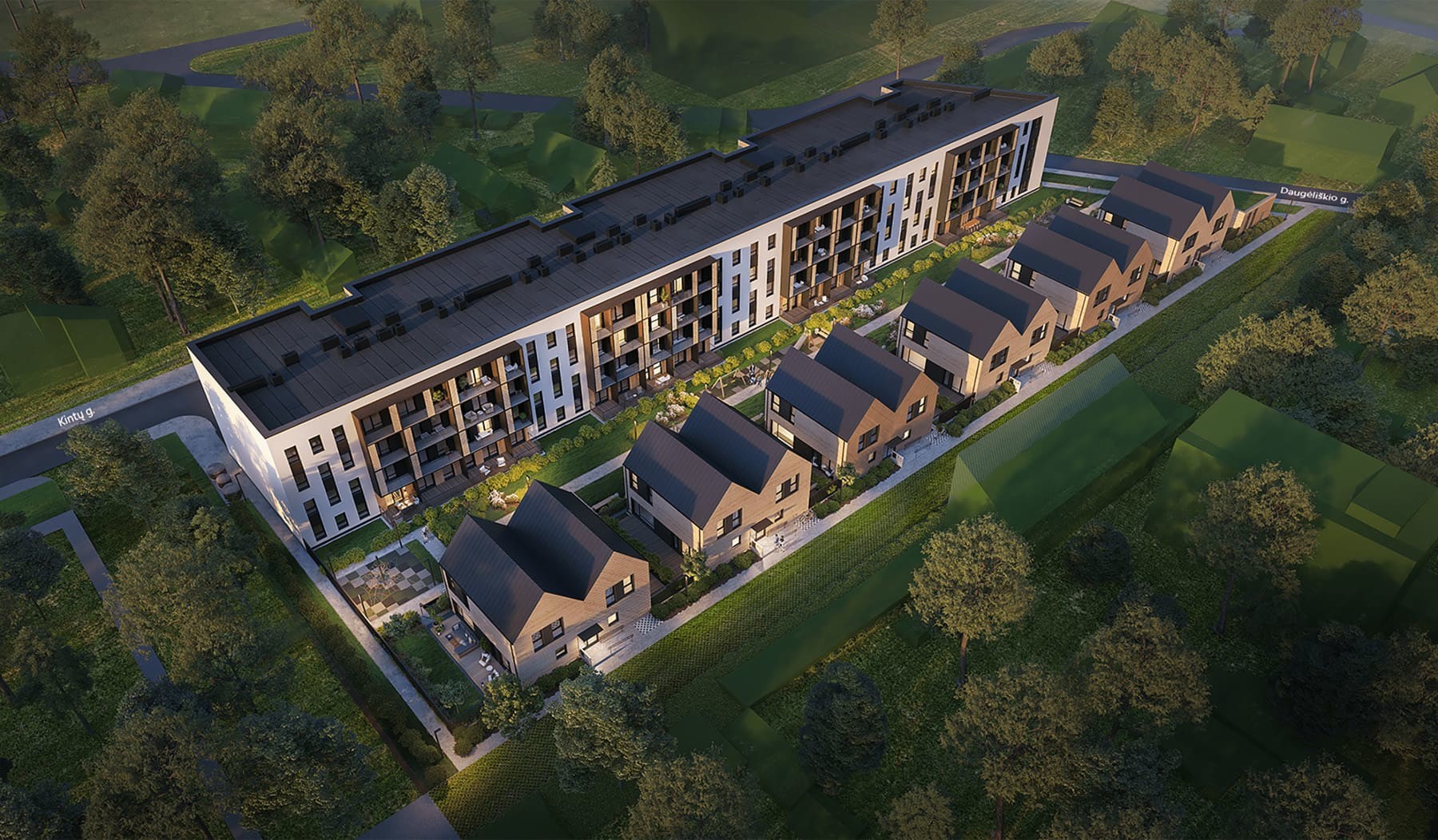 Real estate development company Galio Group has signed a general contractor agreement with Monolitus which will execute construction works for the housing project Namai-Kintai in Šnipiškės district, Vilnius.
Galio Group obtained a building permit for the housing complex consisting of a four-storey multi-apartment building and twelve semi-detached houses in May of this year, and has commenced site clearing and preparation works at 13 Kintų Street.
According to Rūta Grucienė, Residential Project Manager at Galio Group, the development works for Namai-Kintai project are taking place as scheduled, including the installation of utility systems, construction of a portion of outdoor utility lines and completion of all foundation works. The signing of the contractor agreement with the general contractor Monolitus marks the start of an intense stage of construction.
"It is not the typical housing project given its location in the central part of the capital city in the vicinity of a rapidly-growing new central area and this architectural experiment has proved to be a success – we have already signed pre-sale contracts for almost a half of the housing units in this complex. I think one of the factors that has increased the demand for the housing in this project was our decision to allow customers to make down payments in monthly installments to be paid before the project is completed," Mrs. Grucienė said.
The residential estate Namai-Kintai, designed by architectural studios Architektūros Linija and PAO Architektai, will offer 123 apartments with spacious balconies or terraces and twelve semi-detached houses with private patios. The apartments range from 24 to 72 sq. metres in size. Customers can also choose to purchase a larger housing unit by joining several apartments. The semi-detached houses will have a floor area starting from 108 sq. metres.
"We are really excited to be able to contribute to the development of high-quality housing for Vilnius residents. We strongly believe that our team's international experience in the construction industry will enable us to ensure smooth implementation of the project and the new occupants will be able to see the end result next year," said Viktoras Vorobjovas, representative of the general contractor, Monolitus.
The Namai-Kintai project is expected to be completed in the 4th quarter of 2021, with a total of investments in the project around €11.1 million.
Mrs. Grucienė pointed out that Vilnius City Municipality has announced plans to renovate abandoned areas in Šnipiškės district between Kintų and Giedraičių streets including the creation of an attractive and modern public communal space. There are also plans to reconstruct Giedraičių, Kernavės and Daugėliškio streets. Over time, this will add more value to the new housing in the capital's district which is being brought to new life.