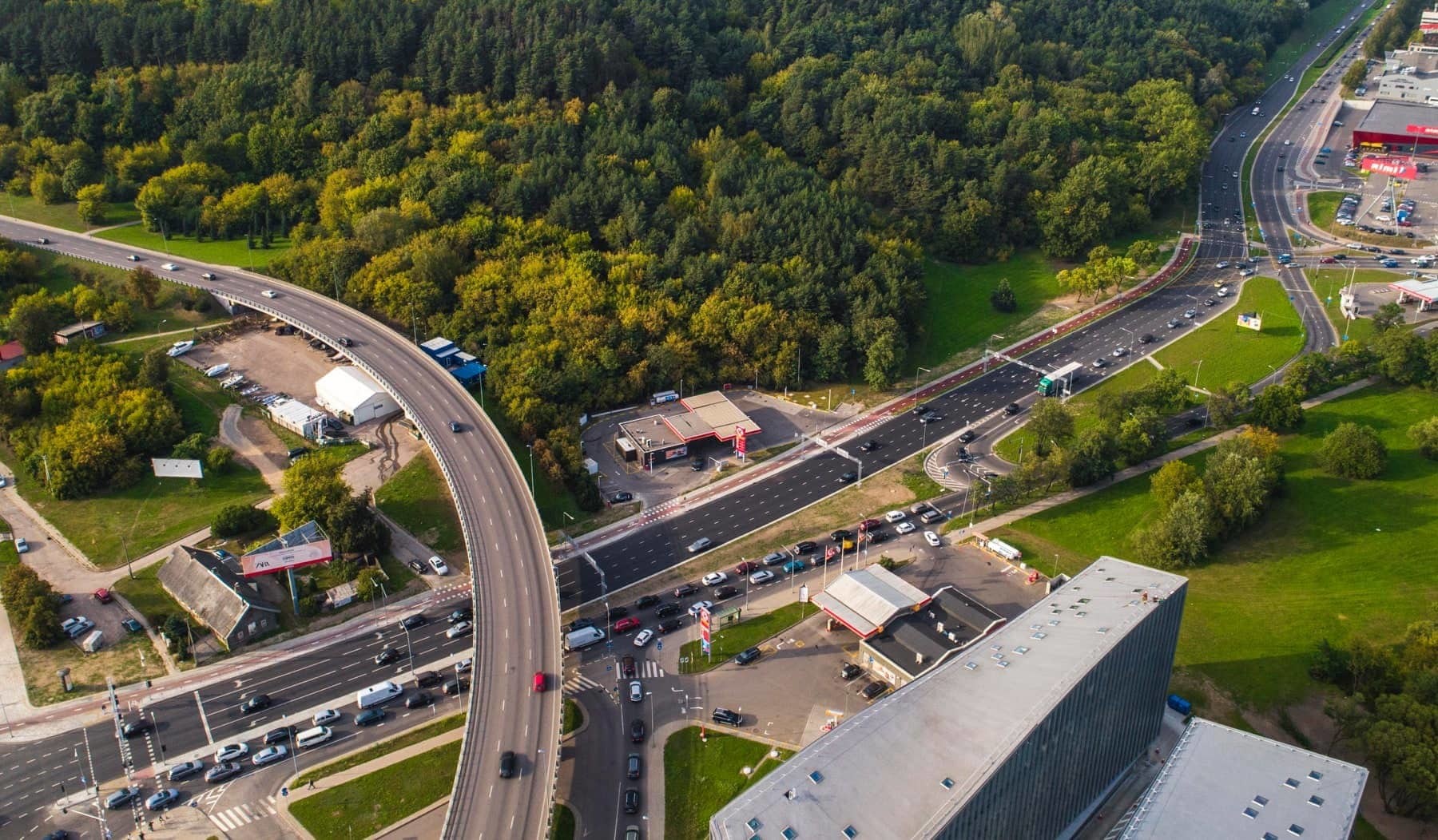 M.M.M. projektai finished reconstruction of the section of Geležinio Vilko Street – the contribution to the infrastructure of the city amounts to EUR 2 million.
The real estate development company M.M.M. projektaifinished almost EUR 2 million value reconstruction of the section of Geležinio Vilko Street. This investment in the infrastructure is aimed at improving the environmental impact of the office complex 'S7' – the reconstruction will increase the capacity of Geležinio Vilko and Ukmergės Streets reducing traffic congestions and environmental pollution.
A 720 m length section of Geležinio Vilko Street between 'LinkMenų' Factory of Vilnius Gediminas Technical University and the crossroad with Ukmergės Street was widened constructing two additional traffic lines. These works included the relocation and new construction of the traffic-lights' controlled crossroad of the turnabout to Žalgirio Street, reconstruction of traffic lights on the crossroad of Ukmergės–Geležinio Vilko Streets, building of new pavements and new pedestrian crossings, installation of LED lighting and about 400 m of new bicycle and pedestrian paths.
The works started last year were performed in two phases by UAB Fegda engaged by M.M.M. projektai for the reconstruction of streets.
M.M.M. projektai started the development of the office complex 'S7' of four buildings inVilnius, Saltoniškių Street, in the territory of the former bakery, in 2016. Two business centres are already constructed and are occupied by employees of the telecommunications company Telia and Danske Bank. Construction operations of the third business centre are approaching the end and will be finalised already this year, while the end of construction operations of the fourth business centre and, hence, of the whole office is pending in mid-2021.
All buildings of the office complex 'S7' are developed in line with the international standard of sustainable buildings BREEAM. The first 'DC PIER'building of the office complex was awarded the final 'New Construction Excellent'certificate – it is the first building in Lithuania and the second in the Baltic States with such a high rating on the BREEAM scale.