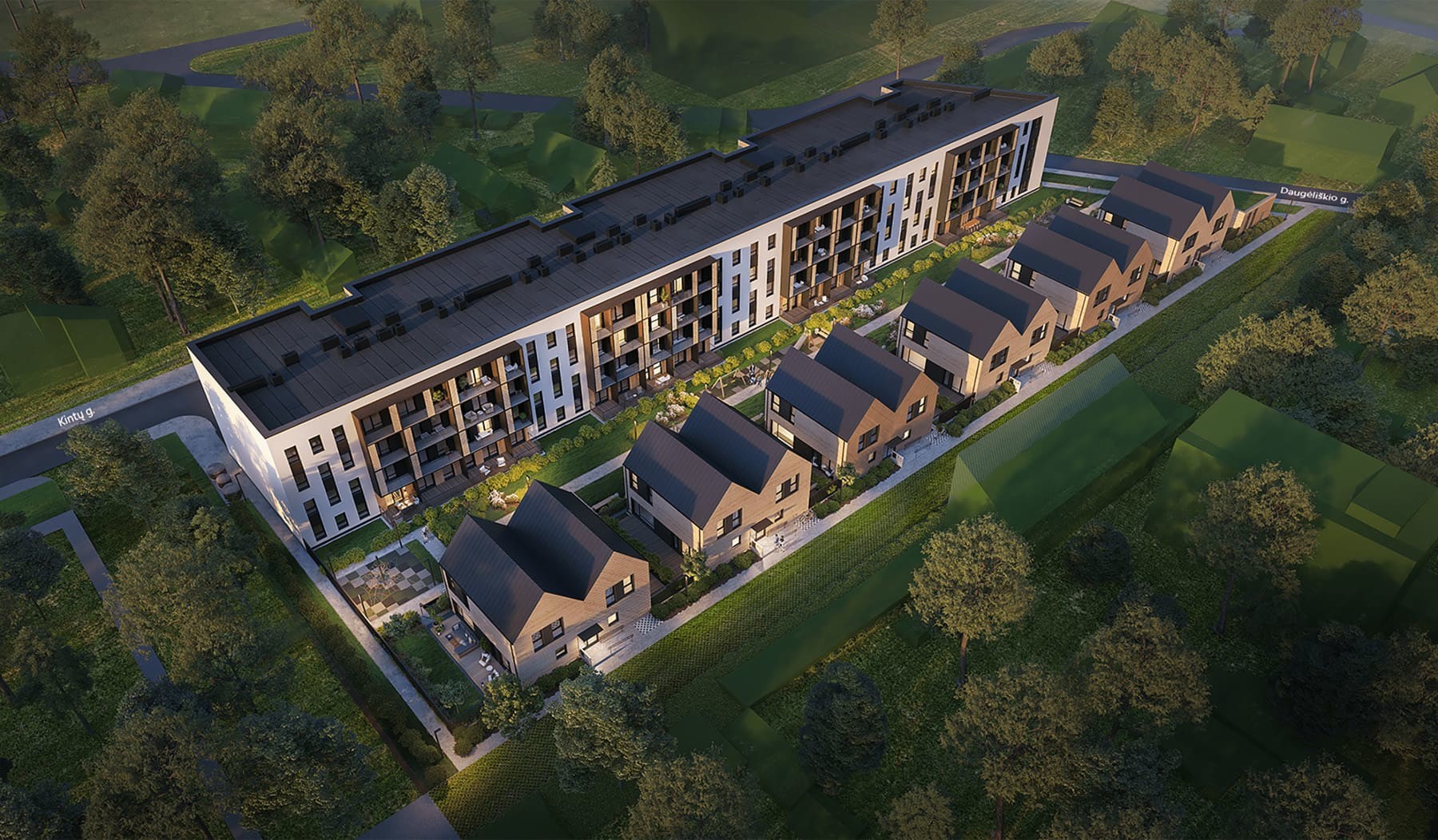 The real estate development company 'Galio Group' has obtained the construction permit for the residential project 'Namai-Kintai' in Šnipiškės, Kintų g. 13, Vilnius. Construction works on the four-storey multi-apartment building and the twelve-cottage complex are scheduled to begin as early as this month, with investment in the project reaching EUR 11.1 million.
123 apartments with spacious balconies or terraces and twelve cottage-type houses with individual courtyards will be constructed under the project 'Namai-Kintai'. The area of apartments varies from 24 m2 to 72 m2, the area of housing planned in the cottages – from 108 m2. There are 138 parking spaces for cars and electric vehicles, storages, baby carriages and bicycle stores in the underground car park, and the closed yard with children's playground and green areas for recreation of residents.
'While the real estate (RE) market is going through the period of uncertainty due to the COVID-19 virus and continuing quarantine we have no doubt about the success of the project 'Namai-Kintai'. Looking at the sales statistics of new apartments last year, Šnipiškės was the district leader – 14% of all new apartments were sold there, and demand was even higher than the new RE supply of developers. The attractiveness of the district will not disappear and will only increase due to the investments of both the developers of the NT and Vilnius City transforming neglected territories,' – says Rūta Grucienė, the Director of Residential Projects at 'Galio Group'.
According to R. Grucienė, the project 'Namai-Kintai' will be developed in parallel with the project of management of the neglected territory of Vilnius Municipality between Kintų and Giedraičių streets, where an attractive, modern public community space will be created, as well as in parallel with the reconstruction of Giedraičių, Kernavės and Daugėliškio streets important for traffic of Vilnius City residents.
Flexible conditions for purchasing apartments
Having obtained the construction permit 'Galio Group' starts active sales of 'Namai-Kintai' apartments and cottages. The company made it possible for customers to pay their initial contribution not immediately by signing a preliminary sale agreement, but in instalments.
'We have received numerous requests regarding the possibility of paying the initial contribution in instalments over a longer period of time. Residents experience the same sense of uncertainty as businesses, there is anxiety and some residents are currently avoiding spending larger amounts of money. That's why we decided to provide the possibility to pay the initial contribution in monthly instalments until completion of the project's construction works. Being a financially stable and reliable company we are trying to take into account the problems of our customers and we are and will remain flexible in the future,' – says R. Grucienė.
The completion of 'Namai-Kintai' construction operations is expected in the fourth quarter of 2021. Investments in the project will amount to EUR 11.1 million without VAT.