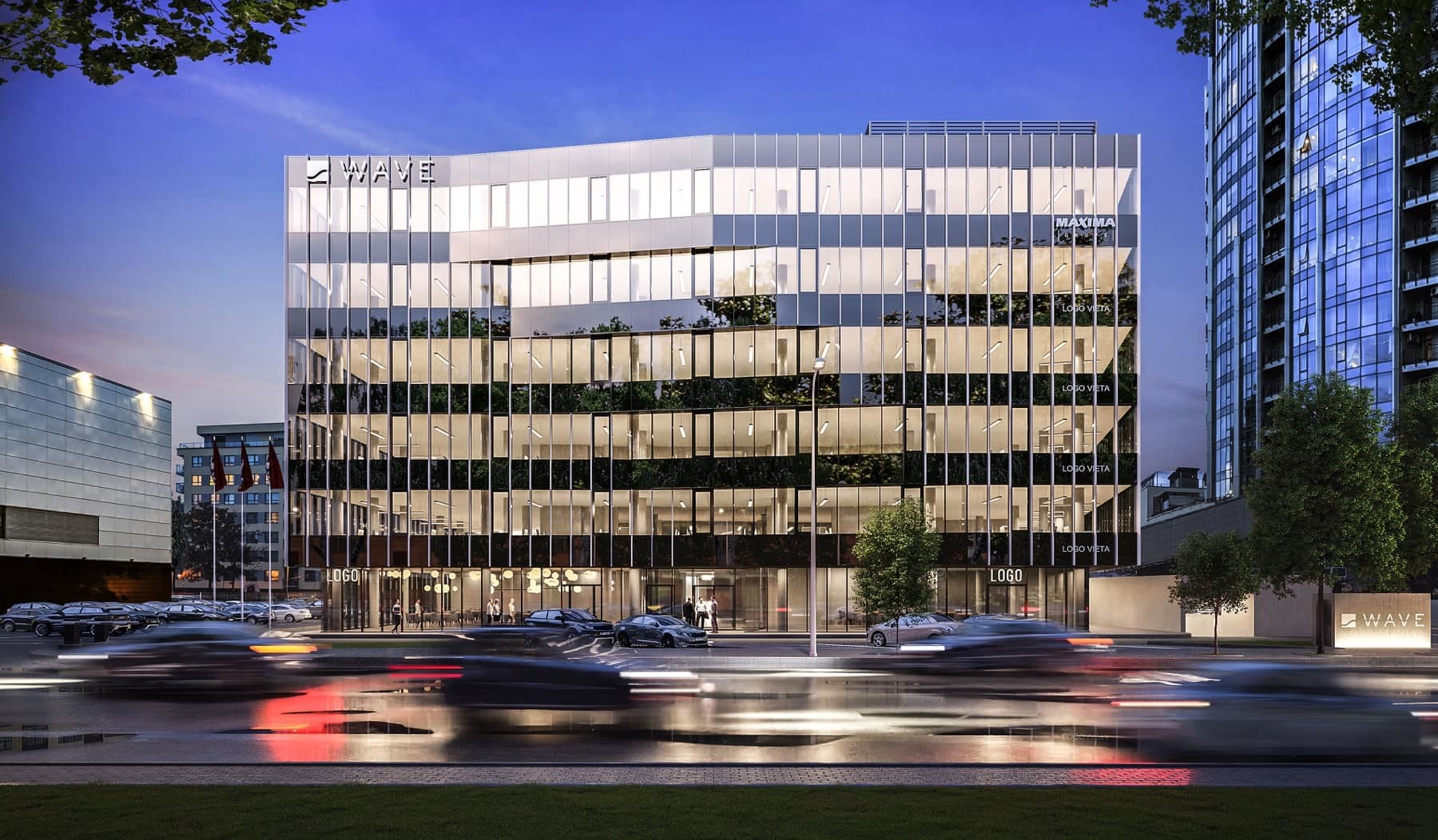 The real estate development company M.M.M. projektai signed with Nordcurrent Group,the largest studio of game developers in Lithuania, a rent agreement for the office premises in the business centre 'WAVE' in Vilnius, Savanorių Avenue.
Nordcurrent Group rented almost 1800 m2floor area in the business centre 'WAVE' – the entire third floor of the building. 120 employees of the company will be housed here. Nordcurrent Group will move to the new office in end-October of the next year.
'Now we are housed in two buildings and for quite a long time were looking for the office premises that would accommodate all of us so that we can work in one space – in one building, on one floor. We also needed an office in the centre with good transport links for employees in order to avoid large traffic congestions in rush hours in the morning and afternoon. We have visited 9 business centres, but picked 'WAVE' because it meets all our requirements. This business centre has modern and effective heating, ventilation, air conditioning and soundproofing systems and is friendly to people and environment', –Viktorija Trofimova, the Director of UAB Nordcurrent Group, comments on the choice of the new office.
The six-storey and 9 700 m2buildingof thebusiness centre 'WAVE' belongs tothe energy efficiency Class A – a part of the electricity used this building will be its own – up to 10% of the annual electricity demand of this business centre will be generated by solar modules installed on the roof of the building. The two-level underground car park hosts 16 charging points for electromobiles, a bicycle parking facility, changing rooms and shower facilities for people who go to work on a bike. The office building 'WAVE' is constructed according to the international standard of sustainable buildingsBREEAMand is eligible to obtain a 'Very Good' certificate.
'After signing the agreement with Nordcurrent Group, about 15% of premises of the business centre 'WAVE' remain vacant. At present, negotiations are under way regarding the rest of the premises on the fourth floor of the building. The supply of vacant office premises  of good condition downtown is low, especially for those businesses that need larger premises; therefore, the interest of businesses in this office building even exceeded our expectations', – says Aurimas Martinkėnas,the Commercial Projects Director of M.M.M. projektai.
Construction operations of the business centre 'WAVE' with almostEUR 18 million invested byM.M.M. projektai started at the end of the last year, and the tenants of this building will move to it in mid-autumn next year.
The year 2021 will see the end of the fourth development phase of the office complex 'S7' constructed by M.M.M. projektai in Vilnius, Saltoniškių Street. At the beginning of the next year, M.M.M. projektai will start constructing the business centre 'Freedom 36'.