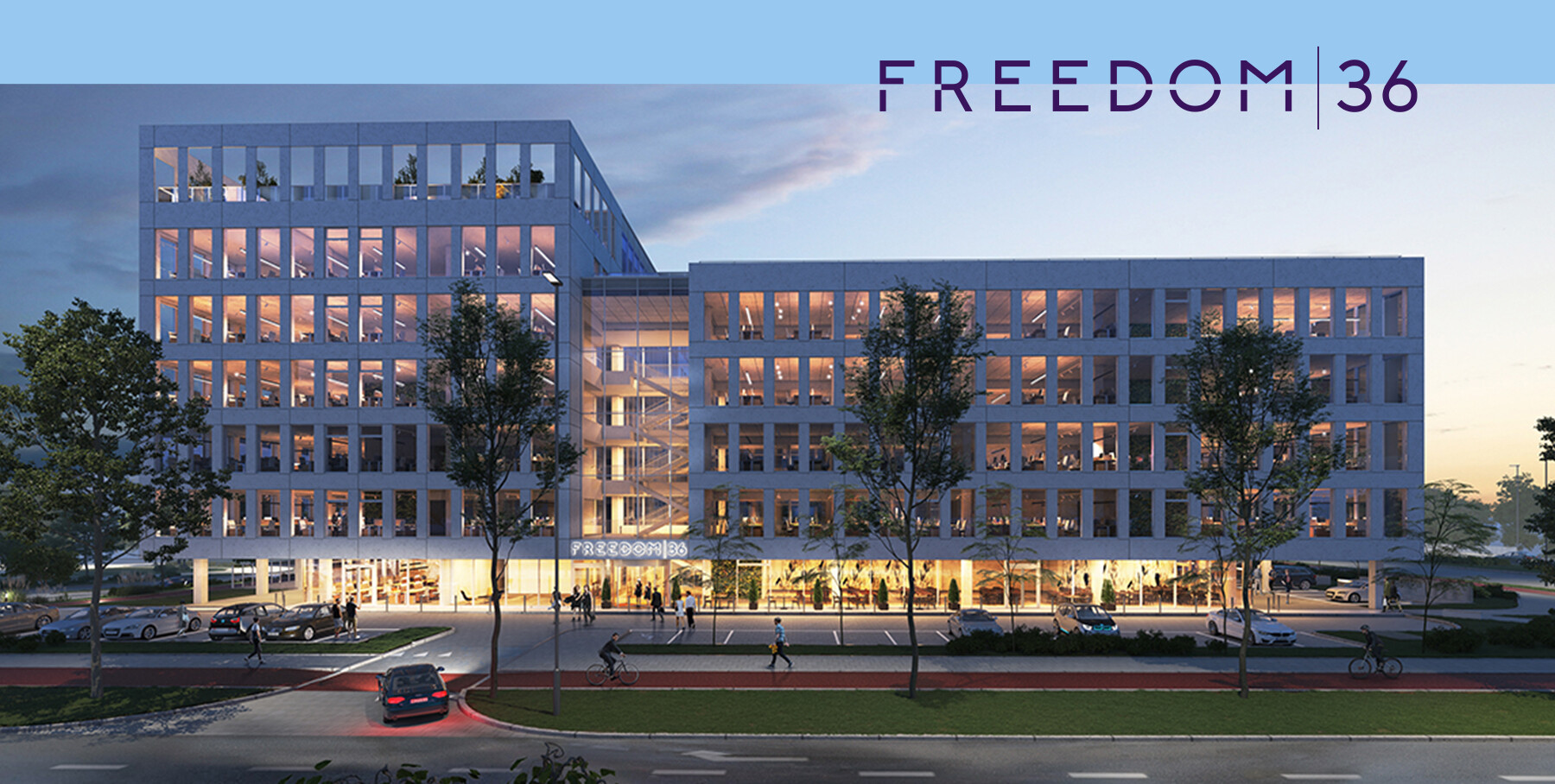 The employees of administration subdivisions of Girteka Logistics, the largest company operating their own truck fleet in Europe, will move to the new headquarters in Lithuania. The company signed the office rent agreement with the real estate developer Galio Group. Due to its distinctive, natural oasis-like interior, the office named "Girteka Park" will invite you to "stay longer" – it will have a gym, library, restaurant, etc. In the new office, Girteka Logistics employees will work on a collaborative basis – they will be able to constantly change their workstations, work in both privacy-friendly and team-specific spaces.
"We aim to create good working conditions for all members of our team, so we are delighted that together with more than two thousand administration colleagues we will move to work in an office that meets modern office trends and needs shaped by the new reality. When selecting the new space for the head office, we focused on ensuring the comfort of our colleagues – convenient office location and the functionality of the building. We also wanted the central office, which will bring together the most administrative staff, to be adapted to promote mutual cooperation," says Mindaugas Aleška, Head of Administration at Girteka Logistics.
The business centre "Girteka Park" will be located next to one of the main transport arteries of Vilnius, Laisvės pr. 36 – probably the best accessible place of the capital city by both public and private transport, connecting the central part of the city and the major sleeping districts of Vilnius.
In this office, Girteka Logistics employees will be able to use the advantages intended only for the company's employees, with a gym, library, restaurant and other services available for employees. The six-storey office will also have as many as five outdoor terraces where staff will be able to work in outdoor workstations, eat and rest in recreational spaces. The terraces will also be adapted for events for staff and guests.
It is planned that in the new business centre Girteka Logistics employees will work on a collaborative basis – they will be able to constantly change their workstations by choosing a comfortable working space next to their team or in common workspaces – library, terraces, etc. One of the main advantages of this business centre is the large number of workstations and spaces dedicated exclusively to inter-team work.
"By moving to the new office, we will further promote cooperation between our colleagues working in different areas. Common projects often bring together specialists from different backgrounds, so in the new office, our colleagues will have a more convenient opportunity to work together and separately depending on the business and personal needs. This model is also chosen because, in adapting to the new reality, we need to ensure both the comfort of jobs and the choice of how and where an employee wants to work. Since June, a hybrid work model has been applied in our company, where employees of administration spend part of their time for work in the office and part of their time – for remote work in Lithuania or abroad," shares M. Aleška.
The building, which will be home to "Girteka Park", will be leased by Girteka Logistics from the project developer, the real estate development company Galio Group, which has contributed over EUR 30 million to invest in the project. Until now, the building in question has been presented to the public and potential tenants on behalf of "Freedom 36".
"In developing this project, we aimed at creating a solution for companies looking for modern, quality premises that are conveniently accessible to employees and customers. Our goal of the development of business spaces is to offer everything we need for a decent quality working environment: aesthetics, top-level comfort, natural lighting, and clean air, as well as the ability to easily change the office layout. I also believe that this modern business centre and the community based there will add life and value to the whole district," says Aurimas Martinkėnas, RE Project Director at Galio Group.
According to Indrė Narauskaitė, office solutions manager at Newsec, the international real estate consulting firm that has brokered the transaction, this is the largest office rent transaction this year. "During the first half of this year, the total area of the office lease transactions entered into in Vilnius office market was 46.000 sq m, while the second half of the year started with the largest office lease transaction of 14 thousand sq m. During the year, only one or two office rent transactions of similar size are concluded on Vilnius office market," says I. Narauskaitė.
"Girteka Park" will be located in the six-storey A+ energy class building of 14 thousand sq m area that already holds "BREEAM Very Good" certificate for the building's technical design. When the building is completed, solar panels will be installed on its roof and will generate about 10 % of the business centre's total annual electricity demand.
About 540 parking spaces will be installed in underground and ground car parks and in the territory surrounding the building. Some of them will be adapted to charge cars with electricity. Storage facilities for bicycles and scooters, as well as shower facilities and changing rooms for cyclists, will also be installed. The business centre will also be adapted for people with disabilities.
"Girteka Park" business centre will be dominated by Scandinavian stylistics intertwined with elements of nature. The main highlight of the interior will be live plant oases, which will remind of a walk in a green and vibrant park in urban spaces. This will be taken care of by "Do architects" team who can boast interior projects in the offices of Vinted, SEB, Delfi, and other well-known companies that have opened their doors in recent years. The authors of the building are the architects of Unitectus Tauras Paulauskas and Tomas Tankelevičius.
Girteka Logistics team is scheduled to start working at "Girteka Park" office in the first quarter of the next year. Currently, the company's head office is in Vilnius, Račių g. 1.