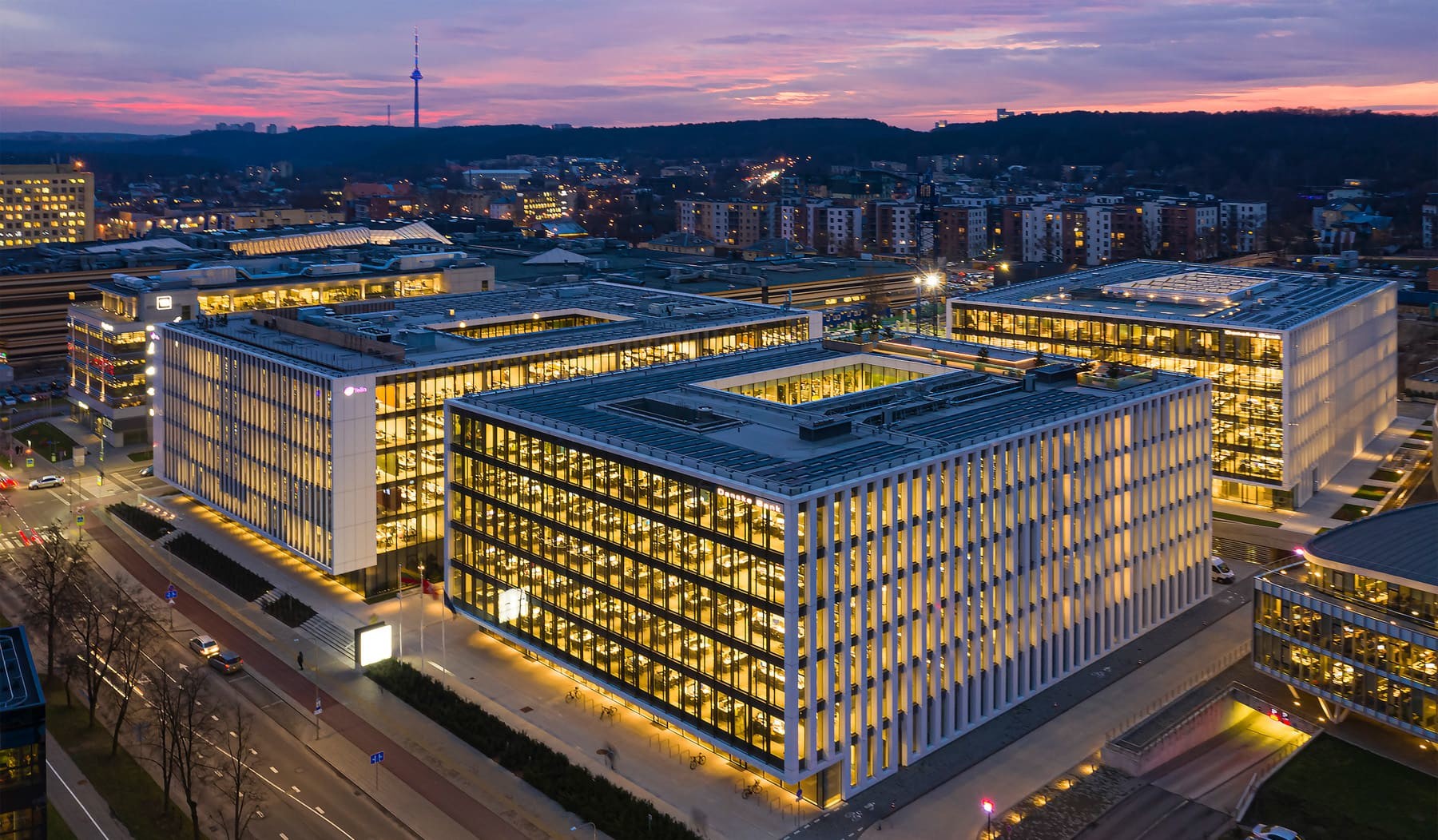 The real estate development company M.M.M. projektai completed the fitting out of the third building of the office complex 'S7' and transferred it to Danske Bank – this building will house about 1 100 employees of the Global Service Centre of Danske Bank.
'The building, which we named 'DC Valley', is one more step of the development of Danske Campus (DC) in Žvėrynas neighbourhood – the ecosystem enabling joint and efficient daily work of our employees and altering the concept of a modern and sustainable workplace. In March, when we move to this office, about 75% of all our staff will be concentrated in Danske Campus', –says Rosita Vasilkevičiūtė, the Head of the Global Service CentreofDanske Bank in Lithuania.
The office building 'DC Valley' is of 29 500 m2total floor area. Its 14 000 m2are allocated for workplaces and shared areas – conference rooms, canteen, and a café open for all visitors, event and rest areas. A three-storey underground car park offers charging points for electromobiles, a bicycle parking facility, and shower facilities and changing rooms.
'Each building of the office complex 'S7' was constructed by us using theinnovative method which had never been applied before in the Lithuanian market. In this building, we used an acoustic fireproof concrete block Butong serving both as an accosting management solution and as a design element', – says Aurimas Martinkėnas, the Commercial Projects Director of M.M.M. projektai.
'Thebuilding of 'DC Valley', likewise the entire office park 'S7', has been developed according to the international standard of sustainable buildings BREEAM.  All office buildings are eligible to obtain BREEAM 'New Construction Excellent' certificate.'DC Valley' will receive this certificate in2-3 months. In addition, the building is expected to gain the highest score in the global workplace performance assessment of Leesman. According to this assessment, the first building 'DC Pier' of the office complex 'S7' was globally rated as the seventh most effective workplace.
At present, M.M.M. projektai are pursuing the fourth stage of the office complex 'S7'. Its completion is envisaged in 2021. In addition, the company is also developing the business centre 'WAVE' (Savanorių Av. 5, Vilnius) and is planning to finish it in the second half of this year. The Business Centre 'Freedom 36', the construction operations of which were started in Laisvės Av., Vilnius, will provide B+ Class premises of almost14 000 m2.