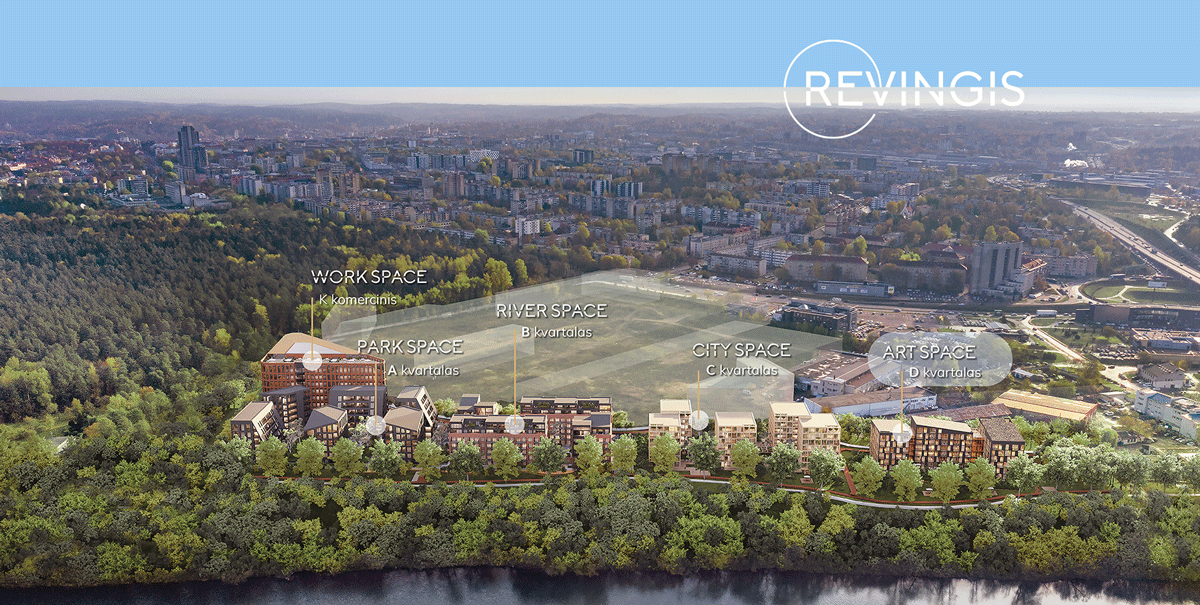 The real estate development company Galio Group obtained construction permit for the fourth block under "reVingis" project. 123 apartments and 5 premises for other uses have been designed in "Art Space" block.
"The procedures of coordination and issuance of construction permits is a very important, but lengthy and unpredictable phase. When it is finally completed, we can plan the works of implementation of the whole project "reVingis" with more clarity and flexibility. Due to the uncertain market situation, we will not start reservations of apartments until we sign contracts with contractors", – says Aurimas Martinkėnas, Director of Real Property Projects at Galio Group.
Last November, Galio Group started the construction of "River Space" – the first phase of the project "reVingis". This residential complex offered to the market 146 apartments, almost all of which were sold. The first phase construction operations are carried out by Panevėžio statybos trestas (PST), the company with which Galio Group signed the contract back in the summer.
Construction of "City Space" is scheduled to start in the second phase.
Designed by architectural studios Aketuri architektai and Cloud architektai, the project "reVingis" is being developed next to Vingis Park, adjacent to the scenic slope of the Neris River, and will comprise 4 blocks of multi-apartment buildings, 14 residential blocks and about 580 flats. The former industrial area will be replaced by a modern living space with its own infrastructure for convenient mobility and quality leisure time. In the western part of the site, where the commercial and residential complex will be built, parallel to the slope of the Neris River, a recreational public space will be designed, pedestrian and bicycle paths are planned to be built, which will merge into the common system of paths of the Vingis Park and the city.