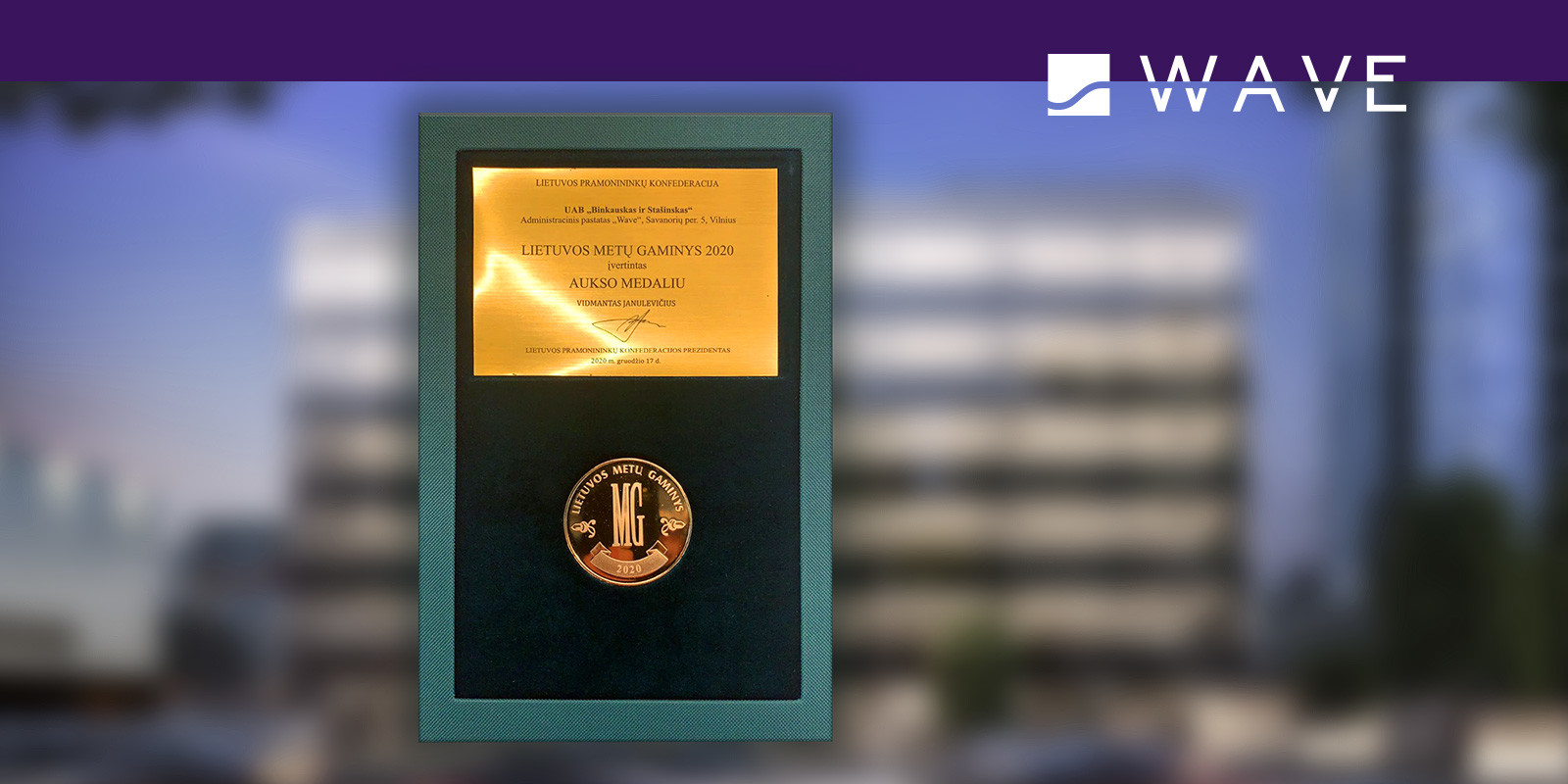 The construction company Binkauskas ir Stašinskas, UAB was awarded the gold medal in the 'Lithuanian Product of the Year' competition for the implementation of Galio Group's project – construction of the business centre 'WAVE' in Vilnius, Savanorių av. 5.
The Lithuanian Confederation of Industrialists organised the 'Lithuanian Product of the Year' competition already for the 24th year. Binkauskas ir Stašinskas, UAB received the gold medal in the 2020 competition in the Construction and Building Materials Industry Group for the construction of the business centre 'WAVE'.
The six-storey and about 9,700 sq. m office building 'WAVE' was developed according to the international BREEAM standard of sustainable buildings seeking to be issued the 'Excellent' certificate, which means that the building is friendly to the environment and to the people who will work in it.
According to Tomas Tareilis, representative of Binkauskas ir Stašinskas UAB, during the construction of this business centre the location of the office building required special attention and competence of the general contractor – it is surrounded by commercial buildings, residential houses, the engineering infrastructure of the territory which has already been formed, and Savanorių Avenue which is a busy artery of the city.
'In addition to the skills necessary for the development of the high energy class building according to the BREEAM standard, the location has led to additional challenges. We needed to plan the stages of work very well to minimise the hindrance to residents of the surrounding buildings, but on the other hand, we could only do some of the work at night when there was no traffic of cars and people in one of the city's main transport arteries. Due to intensity of the development of surrounding areas, we were looking for unconventional solutions for reinforcing the walls of the underground part,' says T. Tareilis.
According to him, the business centre 'WAVE' is one of those projects that requires the full capacity of the general contractor and stimulates not only to strengthen the existing competences, but also to improve.
The real estate development company Galio Group has invested over EUR 18 million in the development of this office building.