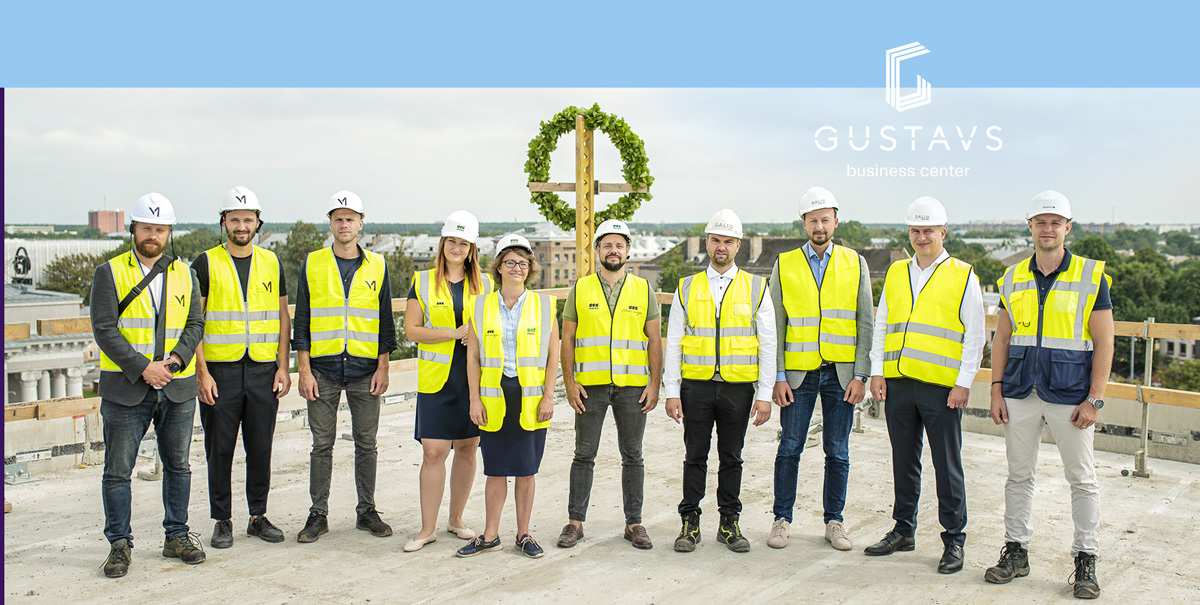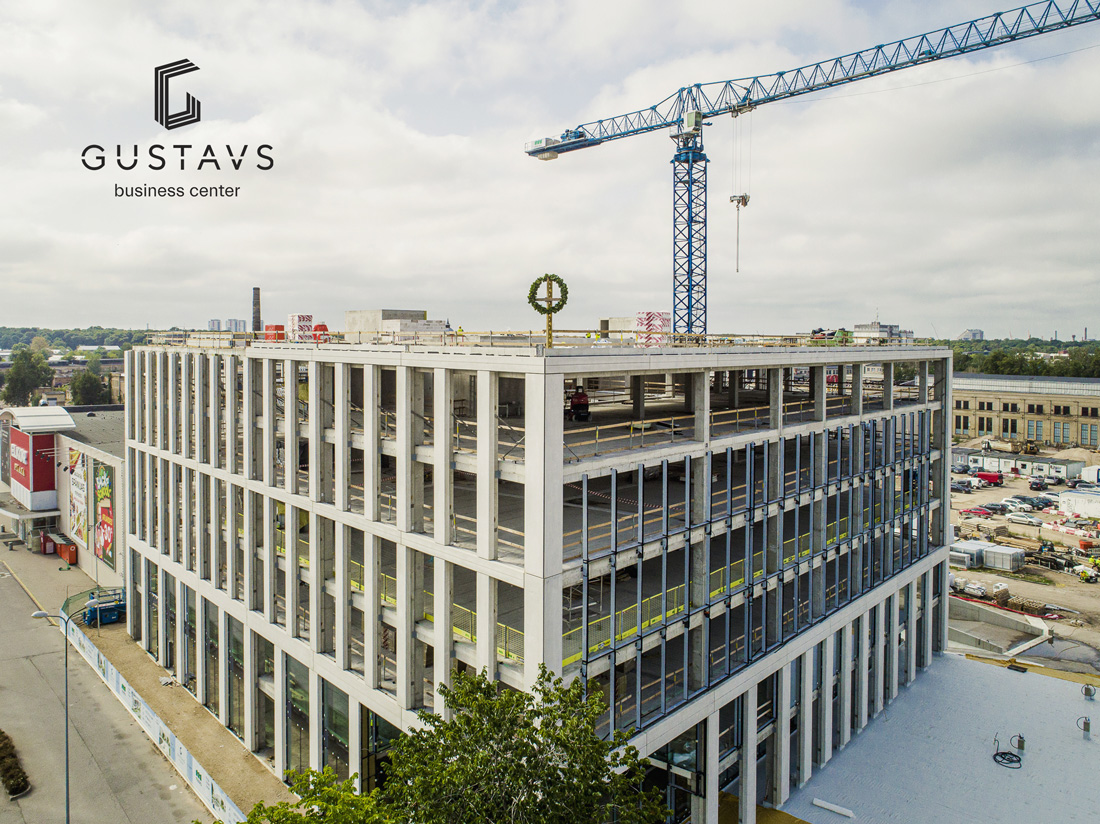 Today, on August 25, real estate developer GALIO GROUP together with the partners – construction company Merks, SEB Global Services centre in Riga and architect office Vilnis Mičulis, held a topping out for the future GUSTAVS Business Center. Celebrating the start of the final stage of construction, the rafters of the new building were decorated with a green oak wreath – a symbol of green living and success under this roof. The construction of the business center is expected to be completed in spring of 2023.
New business center is the first building in the Gustavs Business Center project, which will comprise a total of three sustainable buildings in the VEF area. The business center project includes a six-storey office building with two-level underground car parking, an atrium with a wooden skylight structure, roof terraces, conference rooms, a restaurant zone, electric car charging opportunities, bicycle storage, shower and locker rooms. The project has been designed and is developed complying with the highest sustainability requirements of the BREEAM New Construction Excellent standard. It is planned that SEB Global Services centre in Riga will lease approximately 11,000 sqm of space to accommodate more than 1,000 employees.
"We are now in the final stage of construction to add a new modern business complex – GUSTAVS Business Center – to the vibrant VEF neighborhood early next year. According to the project concept, we are focusing on creating an aesthetic, well-maintained and motivating public space that will be suitable for intensive work as well as for cultural events and leisure. We see the environment of the new business centre as a place where its employees, residents and visitors will be able to build new communities and enjoy the unique atmosphere and benefits of a modern metropolitan district," says Kaspars Beitiņš, Member of the Management Board of GALIO Development in Latvia.
"I can speak on the behalf of all of our more than 1000 colleagues, who are excited to see the excellent progress with our new office building. We look forward to the next year when we will move from our three current locations to GUSTAVS and finally work under one roof. I have no doubt that after its completion GUSTAVS will be one of the most modern, inspiring and sustainable office buildings in Riga and become an excellent addition to Teika area. Our ambition is to create GUSTAVS as the best place for our employees to collaborate, create and grow together. For us, GUSTAVS will become a platform that will support further development of our organization and a strong focus on well-being of our employees," emphasizes Aļesja Kirčenko, Deputy Head of SEB Global Services centre in Riga.
"Today, in honor of the Topping out event, we are happy to celebrate the completion of a significant amount of work. We have reached the highest point of the GUSTAVS business center and can see the full extent of the building. We are currently actively working on the construction of the glazed skylight and it is planned to complete the facade glazing works by the end of October, which will allow the building frame to be completely closed, says Andris Bišmeistars, member of the board of SIA "Merks" and construction director, emphasizing that this is an innovative development project that will contribute to Riga's urban environment which will keep up with the global trends. "In the construction of the building, environmentally friendly materials are used and special attention is paid to energy-efficient solutions, such as placing solar panels on the roof of the business center. We would like to express our sincere gratitude to our cooperation partners GALIO GROUP and SEB Global Services for productive and successful cooperation which will result in one of the most modern business centers in all of Latvia," underlines A. Bišmeistars.
The architects and project authors of GUSTAVS Business Center are SIA Vilnis Mičulis. Construction supervision is provided by SIA Buvuzraugi LV.